SPELUNKY MINIS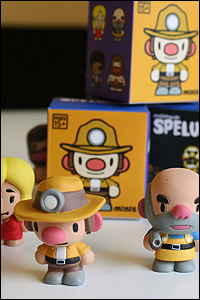 The Spelunky friends are ready to leave your screen and hang out on your desk or shelf! These cute, two-inch high PVC figurines are available individually, or as a full set of 10 that includes Spelunky Guy, the Damsel, the Shopkeeper, Tunnel Man, Caveman, Yeti, Mantrap, the Frogs, Jiangshi, and the Golden Idol. Each figure comes in its own box. (Note: We've recently added 4 new figurines!)
The Minis were designed and produced during the development of Spelunky for XBLA. It was a collaboration between myself, my dad, and a small Chinese shop. Now, after the release of the game, we've teamed up with Fangamer and Attract Mode to distribute them to fans of the game! We hope you enjoy them!


SPELUNKY T-SHIRTS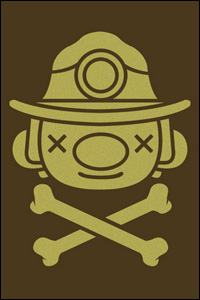 At PAX 2011 we sold a limited set of Spelunky skull t-shirts and they were a huge hit! Well, thanks to Fangamer and Attract Mode these shirts are once again available... and they're even better than before! Printed on American Apparel garments with metallic gold ink, the Spelunky skull tee is a great way to show off your love of dying.
Available in all sizes.


ORIGINAL SOUNDTRACK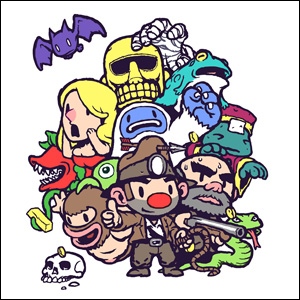 Just like the game itself, the Spelunky soundtrack is a diverse, cavernous, and infinitely replayable! The brainchild of Eirik "Phlogiston" Suhrke, the music is a combination of cute and somber jazz over a mid-tempo beat. Inspired by early 90's video games, it's nonetheless seasoned with more modern production values. Includes all 47 (!) tracks from the game, as well as 15 bonus tracks that consist of drafts, alternate versions, cut tracks, and new arrangements. Gapless playback recommended! Shuffle is also not bad.


FRIENDS IN CAVES EP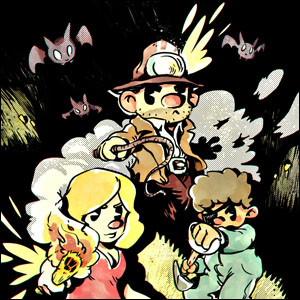 In October 2014, Eirik put out a free EP of remixed music from Spelunky that includes new songs from Eirik as well as distinguished friends like Manami Matsumae (of Mega Man/Capcom fame!). It was released alongside the game's PS4 port, and is, in his words, "a celebration and commemoration of Spelunky and its fans"